BMW E36 Shock Mount Replacement – 1 Hour
The BMW Repair Guide used this 1996 M3 for the following article.
Repair Summary
The following article gives detailed instructions on replacing the rear shock mounts on a BMW E36 3 series car. Even though we have used a 1996 BMW M3 to perform this repair, this article can be applied to any BMW E36 3 series vehicle with minor modifications.
A BMW E36 shock mount replacement is an easy and inexpensive way to restore the factory performance to the rear end of your car.
There are some maintenance items we tend to overlook, usually because they deal with areas of the car we don't want to mess with. Suspension maintenance is one of them. For most of us home mechanics, the diagnostic tools for suspension maintenance are our ears and eyes: a squeak as we go over a bump, a clunk as we make a turn, or the feeling the rear end of the car wants to steer the front. Unfortunately these are all indicators that a part has already failed. A BMW E36 shock mount replacement is a simple DIY repair that should be performed regularly on your daily driver, and even more often if you drive aggressively, track your vehicle, or use aftermarket sport shocks or wide wheels. Signs that the rear shock mounts need replacing are squeaks, rattles, clunking sounds, or poor rear end handling because of excessive deflection.
The rear shock mounts are the connection point for the rear shocks to the car's chassis. They consist of a steel sleeve surrounded by a rubber or urethane isolator that helps dampen road vibration and noise. Performance parts companies like ECS Tuning also offer polyurethane shock mounts that offer an even higher level of ride quality over stock rubber ones. For hardcore track enthusiasts and race cars, monoball rear shock mounts are highly recommended. A monoball shock mount consists of a spherical bearing shaft that allows the shock to move freely eliminating the isolator all together. These types of rear shock mounts are recommended for track and racing purposes only since they offer very little road noise and vibration dampening.
Determining the best shock mount for your car
There are several different types of rear shock mounts available depending on your budget and your style of driving. BMW E36 shock mounts can cost under $20 a pair for OEM steel and rubber units, to over $150 a pair for high performance racing uni-ball versions. Since we track the BMW Repair Guide 1996 M3, as well as doing a lot of street driving, we decided to take the middle ground with a pair of billet aluminum rubber mounts by JT Design. These heavy duty mounts have a CNC-machined billet aluminum base with a replaceable rubber isolator that offers superior noise and vibration dampening but can withstand the vigor of hard driving. We have provided links below to help you make the right choice for your vehicle.
The BMW Repair Guide also recommends you always install new gaskets when replacing your shock mounts. Make sure to check your shock mount kits before ordering…many come with the gaskets included.
The BMW Repair Guide also strongly recommends adding shock mount reinforcements when replacing your BMW E36 shock mounts. The BMW E36 sheet metal supporting the rear shock mounts is notoriously thin, and is susceptible to failure due to age, stress and fatigue. BMW corrected this issue in later models by adding shock mount reinforcements; a simple steel plate that fits on top of the sheet metal allowing the stress from the mounting bolts to be more equally distributed. Not installing a pair of reinforcement plates with your new rear shock mounts is comparable to changing the dirty engine oil in your car but not replacing the filter. Adding a pair of reinforcements when replacing your rear shock mounts is good insurance against shock tower failure further down the line and is highly recommended. Once again, make sure to check your shock mount kits before ordering…many come with the reinforcement plates included.
Affiliate link disclosure
– The
BMW Repair Guide uses affiliate links in their site. For more information on affiliate links

, please click here.
1. Shock Mounts (Required) –  As we discussed above, there are several different shock mounts to choose from based on your driving style and budget. We have listed our favorites below…all are high quality shock mounts for a reasonable price.  Note – some of the kits below include gaskets and reinforement plates. Check the full descriptions before ordering.
2. Shock mount gaskets (required) – Always replace the gaskets when installing new BMW E36 shock mounts. Make sure gaskets are not already included with shock mounts above.
3. Shock mount reinforcement plates (optional) – Even though this part is listed as optional, we strongly recommend installing shock mount reinforcement plates. After years of stress, the shock mount nuts can pull through the body of the car causing the rear shocks to fail. Adding reinforcement plates will prevent shock mount failure and provide a sturdy steel backing to the body of the vehicle.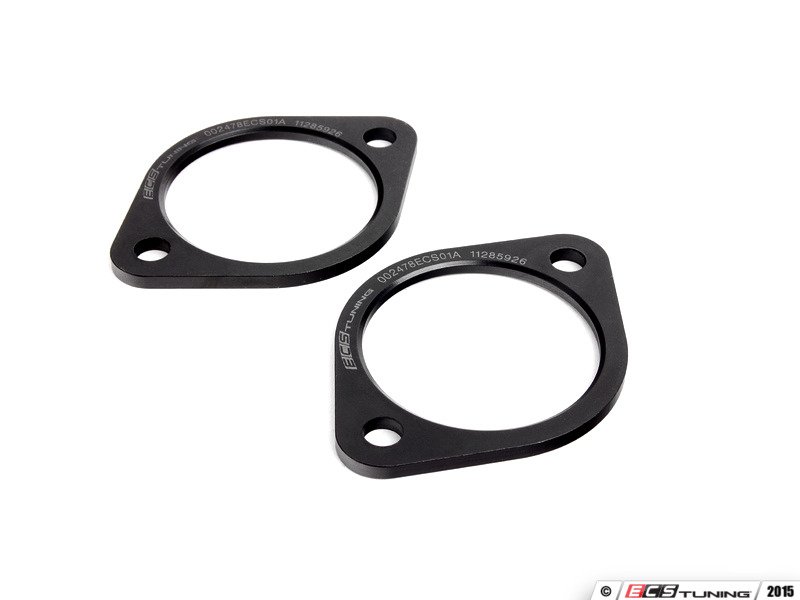 BMW E36 sedans and coupes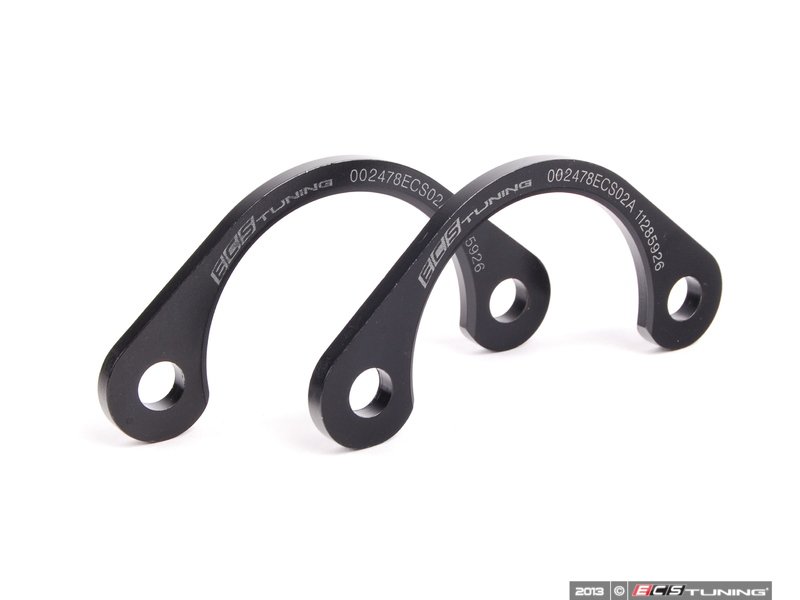 The BMW Repair Guide makes every attempt to publish their repair articles with detailed step by step photographs, videos and written instructions. Since this repair deals with varying years and models, your vehicle may be slightly different than what is shown in the following steps and images. Some repairs may also require additional steps not covered in our articles like: removing covers from the engine and undercarriage, moving wires or hoses to access parts, cleaning and lubricating parts associated with the repair and performing general maintenance.
Section 1 – Preparing car for a BMW E36 shock mount removal
Jack and support the rear of your vehicle using the jack stand method as shown in our article BMW Jacking and Supporting for Repairs and Maintenance. Remove the rear wheels.
Remove the rear deck stereo speakers. Speaker removal will vary by model or whether aftermarket equipment has been installed, but most will require the interior speaker grill to be removed so access to mounting screws can be achieved. The speakers must be removed to have clear access to the rear shock mounts.

Pull back trunk carpet and black underlay to expose top of shock mount.
Section 2 – Removing the old BMW E36 shock mounts
Using a 17mm open end wrench (or large open end wrench) and small adjustable wrench, remove

upper mounting nut

and cup washer from shaft.
Using a ½" drive 13mm socket, remove the two

upper mount to body nuts

.
Working from inside the wheel well, compress the shock with your hands and remove old shock mount. Make sure to remove any old gaskets attached to body.

Clean mounting area with a rag and brake cleaner to remove any road grime before installing new shock mount.
Section 3 – Installing new BMW E36 shock mounts
Install new shock mount and gasket.

Working back inside trunk, install new shock tower reinforcements.

Install new the new

upper mount to body

nuts and washers

.

Reinstall old cup washer and

upper mounting nut

.

Torque all nuts to the following specifications:
            Upper mounting nut – 14 Nm (10 ft-lb)
            Upper mount to body nuts – 24 Nm (17 ft-lb)
BMW E36 Shock Mount Replacement Finished
If you have any questions or comments, please feel free to contact us. And congratulations for Doing It Yourself!