BMW Pressure Regulator Valve Replacement – 30 Minutes
The BMW Repair Guide used this 2005 645ci for the following article.
Repair Summary
This article covers replacing the crankcase pressure regulating valves in a BMW with the N62 8 cylinder engine. Even though we used a 2005 E64 645ci to perform this repair, this article can be applied to any BMW vehicle with the N62 V8 engine, including the 5,6,7 and X5 series with minor modifications to the repair steps.
If the N62 V8 engine in your BMW is starting to idle rough, and you are displaying the yellow "check engine" light on your dashboard along with an "increased emissions" message on your iDrive display, then you may need a BMW pressure regulator valve replacement.
The BMW N62 V8 engine is a reliable workhorse found in a wide range of models from 2002 through 2010. It is most notably found in the BMW 5, 6, and 7 series V8 cars of this time period, along with versions of the X5 SUV.
One of the most common problems with the N62 V8 is a rough idle situation that displays an error message on the iDrive display that there are "increased emissions" followed with the yellow "check engine light" on the dashboard. If your vehicle requires a BMW pressure regulator valve replacement, you will also most likely display the following error codes on your diagnostic scan tool: 29E8, 29F0, 29E7, 29EF, 29E8.
The BMW Repair Guide highly recommends the use of a diagnostic scanner to help identify and fix issues with your BMW automobile. A good BMW
diagnostic scanner
 is inexpensive, easy to use, and helps take the "guess work" out of diagnosing repair issues with your vehicle.
The investment in a diagnostic scanner will usually pay for itself after one repair
. If you are interested in using the same diagnostic scanner we use,
please click here
.
The BMW pressure regulator valve creates a vacuum in the crankcase that is needed to remove unwanted "blow-by" combustion gases from the engine. These gases must be removed from the engine case to ensure proper performance of your vehicle. Over time the gasket and the spring inside the BMW pressure regulator valve become worn, allowing the pressure to increase in the engine block which triggers multiple error codes and the "check engine" light on your dashboard.
Changing out your vehicle's two pressure regulator valves is an easy repair that takes less than 30 minutes to complete. It can save you hundreds of dollars by avoiding an expensive trip to the dealership.
Affiliate link disclosure
– The
BMW Repair Guide uses affiliate links in their site. For more information on affiliate links

, please click here.
Section 1
1. Crankcase pressure regulator valve (required) – Always use a superior quality valve from a reputable manufacturer. Cheap "generic" aftermarket valves are not manufactured under the same quality control as those produced my quality brands. We give you several excellent an affordable options below. Always replace both crankcase pressure valves when doing this repair.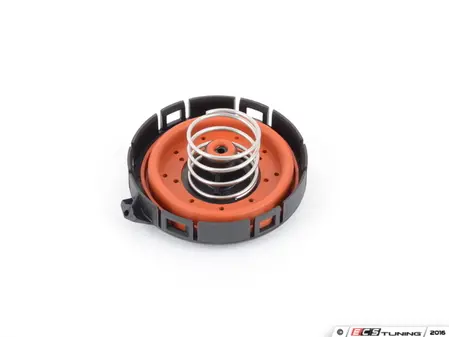 All vehicles with N62 V8 engine.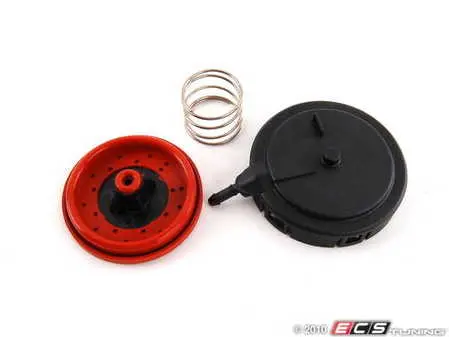 All vehicles with N62 V8 engine.
Use a T30 torx T Handle (or socket) to remove the four torx bolts securing the top engine cover. Remove cover from engine bay.
Remove side engine covers by pulling until they unsnap.
Use a flat blade screwdriver to remove the vacuum line from pressure regulator caps.
Use a flat blade screwdriver to remove pressure regulator cap.
Install new springs and gaskets. Make sure caps are on tight by using the palm of your hand and pressing down. It is very important that you have an air tight fit on valve caps for proper operation.
Installation finished
If you have any questions or comments, please feel free to 
contact us
. And congratulations for Doing It Yourself!