BMW E90 Battery Replacement – 30 Minutes
The BMW Repair Guide used this 2011 E90 335i for the following article.
Repair Summary
The following article gives detailed instructions on replacing the battery in a BMW E9x 3 series vehicle. Even though we have used a 2011 335i sedan to perform this repair, this article can be applied to any 2007-2013 3 series vehicle with minor modifications.
A BMW E90 battery replacement is an easy repair for the home mechanic and can avoid an expensive trip to the dealership.
One of the most asked questions we receive here at the Repair Guide is "can I replace the battery in my BMW myself?". The answer is an emphatic yes. You can absolutely replace your own battery. In fact we highly encourage it if you want to save a whole lot of money.
The lifespan of your BMW E90 battery is approximately 5 to 6 years. This is due to the constant drain of onboard electronics that slowly decrease the battery's efficiency. This lifespan can be greatly shortened if the battery has been completely discharged or has been improperly charged or jump started. Signs of a failing battery in your BMW E90 are; vehicle struggles to start, onboard electronics malfunctioning or acting peculiar, and warning lights and messages on the dashboard and iDrive screen.
Where is the battery in a BMW and how do I remove it?
The battery in your 2007-2013 3 series is located in the trunk on the right side of the vehicle. It is easily accessed by removing the right trim panel. There is a roll over bracket and support bracket that will need to also be removed…we give you complete step by step instructions below on how to do it.
What do I do if my battery is dead and I can't open the trunk?
You cannot manually open a locked truck on your BMW E90 3 series if the battery is completely discharged. If your battery is dead, the quickest and easiest way to open the trunk is to connect to the battery in another vehicle via jumper cables. Simply attach the red jumper cable to the positive terminal under the hood and the black jumper cable to the one of the strut brace bolts as shown below. You will now have enough power to release the trunk. DO NOT start the car you are receiving power from…this could cause a voltage surge that could damage sensitive electronics. Never connect jumper cables or a battery charger directly to the battery in the trunk…this can also destroy sensitive electronics.
What is the best battery for my BMW E90 and how much does a replacement BMW battery cost?
The second most asked question we receive here at the Repair Guide is whether you can replace your BMW battery with one from your local auto parts store. Once again, the answer is a resounding yes. Contrary to what many BMW owners are often told, a battery purchased at your local auto parts store is a completely acceptable replacement in your E90 3 series and will perform exactly the same as a battery purchased from the dealership. Just make sure to match the same physical length and type (lead acid or AGM) of the battery currently installed. On average a replacement battery for your BMW E90 will cost approximately $150-$200, depending on the brand, battery type and performance level you purchase. There were many different batteries used in the BMW E90…the best practice is to measure the length of your battery and verify whether it is an AGM or lead acid type before purchasing.
BMW battery registration – does my BMW E90 battery need to be programmed after I install it?
Whenever you replace the battery in your 2007-2013 BMW 3 series car, you must let the vehicle's engine control module know. As intelligent as we think our BMWs are these days, they still are not smart enough to know when a new battery has been installed. Notifying the car's control module that a change has been made is called "registering" the new battery. You should register the new battery you put in to get the maximum life span out of it.
Registering the new battery in your 3 series requires the use of a BMW OBDII scan tool. If you are not a home mechanic or BMW enthusiast, then you probably don't have a scanner just laying around the garage. If you would like to buy an inexpensive scanner that will register your battery as well as help you diagnose future repairs, please see our parts list or click here to purchase a Schwaben BMW scan tool.
If you don't want to purchase a scanner, we suggest stopping by any local auto repair shop…they will probably be more than happy to do it for free. Here at the BMW Repair Guide we gratuitously do it for anyone who pulls up and asks…it only takes a minute and we are happy to help.
Affiliate link disclosure
– The
BMW Repair Guide uses affiliate links in their site. For more information on affiliate links

, please click here.
1. Replacement battery (required) – For those BMW E90 owners that would rather order their battery online and pick it up or have it delivered, we give you these fine affordable options. There were many different batteries used in the BMW E90…the best practice is to measure the length of your battery and verify whether it is an AGM or Lead Acid type before ordering. See our repair steps below on how to easily remove the side trunk trim so you can get this information from the top of the battery.
2. Performance battery (optional) – An average car battery in your BMW E90 weighs about 50 lbs. That is a lot of extra weight being dragged around that effects performance on both the street and the track. Replacing your original factory battery with a light weight lithium ion version can increase acceleration and enhance handling characteristics, making your E90 quicker and more responsive. They also last 3 to 5 times longer than a standard battery and have a very low discharge rate.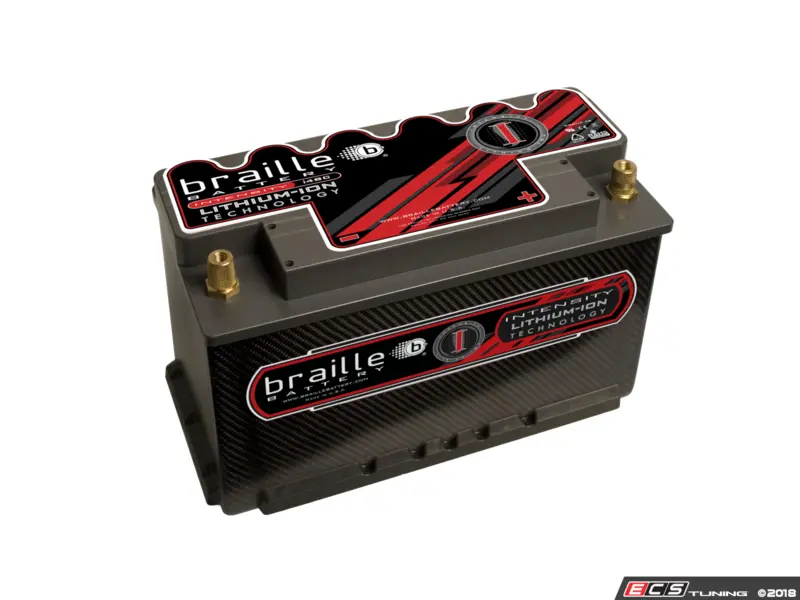 High performance track/racing battery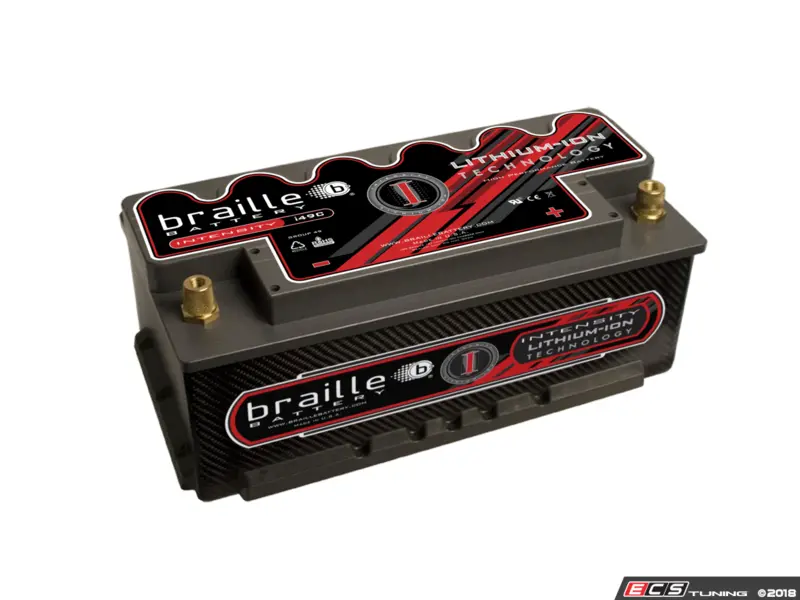 High performance track/racing battery
3. BMW scan tool (diagnostic scanner) (optional) – Register your new battery in less than a minute! If you are a home mechanic and don't have a BMW scan tool, then you will be guessing most of the time when diagnosing issues with your vehicle. A BMW diagnostic scanner is as important to your tool chest as a set of socket wrenches. The Schwaben multi-system elite scanner is an affordable scanner that delivers dealer level diagnosis for all BMW and MINIs.
4. Battery charger (optional) – It is always nice to have a high quality battery charger in your garage. Avoid cheap "aftermarket" chargers commonly found in discount stores…you always get what you pay for. We give you several high quality several choices based on your needs.
Section 1 – Removing and installing the BMW E90 battery
Removing and installing the battery in your BMW E90 3 series is a relatively straightforward procedure that can be done by even the most novice mechanic. There is very little skill involved…just use patience and move slowly while disconnecting the terminals. The battery is very heavy. We strongly suggest enlisting a helper when attempting to remove or install the battery.
Locate the battery compartment in the right side of the trunk.
To remove the trim cover from the battery compartment, simply turn the release and pull the cover free from the body of the vehicle.
You can now see the BMW E90 battery.
Remove the two 10mm bolts anchoring the roll over bracket to the car. Remove the roll over bracket from the battery compartment.
Use a long 8-12″ socket extension to remove the 10mm battery support rail. Reach down and remove the support rail from the battery compartment.
Use a 10mm socket wrench to remove the negative cable from the battery terminal.
The negative battery cable has an Intelligent Battery Sensor (IBS) attached to it. Disconnect the IBS leads by pinching in the plastic locking clip and pulling the plug free.
Remove the positive battery cable from the body of the vehicle by releasing the plastic straps.
Lift the plastic cover on the positive battery terminal. Use a 10mm socket wrench to loosen the positive battery cable.
The entire positive battery cable assembly lifts off of the battery in one unit. It is attached on the sides by metal retaining clips. To release the clips, press down on them as shown below.
Grasp the positive battery cable assembly and remove it from the battery.
You can now remove the battery from the trunk. Grasp it by its handles and lift it out of the battery compartment.
Follow the above steps exactly in reverse to install your new BMW E90 battery.
Reinstalling the battery support rail can be tricky due to the limited amount of space next to the battery. We suggest inserting piece of masking tape into the end of the 10mm socket to hold the battery support rail bolt (see image below). This will allow you to lower the support rail down and install it without having to reach behind the battery.
Section 2 – Registering your new E90 battery
Now that you have installed a new battery in your 3 series vehicle, you will need to register it. As discussed at the beginning of this article, registering your battery requires using a diagnostic scanner to notify your vehicle's engine control unit (DME) that a new battery has been installed.
Please see our article on BMW battery registration for more details on this procedure. If you would like to purchase an affordable BMW diagnostic scanner that also registers batteries, please see our parts list or you can order one by clicking here.
BMW E90 Battery Replacement Finished
If you have any questions or comments, please feel free to contact us. And congratulations for Doing It Yourself!