BMW E60 Parking Lamp Replacement – 15 Minutes
The BMW Repair Guide used this 2006 530xi touring for the following article.
Repair Summary
This article gives detailed instructions on replacing the parking lamp/angel eye bulbs in a 2004-2007 (pre-LCI) BMW 5 series vehicle with a xenon headlight assembly (the halogen assembly is different). Even though we used a 2006 530xi touring wagon to perform this repair, this article can be applied to any BMW E60/E61 5 series vehicle with xenon headlights and a production date up to 3/2007 (pre-LCI) with minor modifications to the repair steps.
Please note that this repair article is only for BMW E60 5 series vehicles with a production date to 03/2007 (pre-LCI) with the

xenon headlight

option only. Other models use a different bulb and a different procedure for replacing it. If you are not sure of the production date of your 5 series, please check the vin decal in the driver's side door jamb
.
A BMW E60 parking lamp replacement will quickly remove that irritating error message on your iDrive display.
As we have alluded to in other articles, one of the most misunderstood error messages to pop up in our iDrive display is the infamous "parking lamp malfunction". What are the BMW E60 parking lamps (also called the "parking lights") and exactly what do they do?
On the BMW E60 5 series, the vehicle's parking lamps are actually the headlight's angel eye rings. A small 5w bulb located within the interior headlight reflector is what supplies the power to light them. Replacing the parking lamp bulb is the same as replacing the angel eye bulb on a BMW E60 with xenon headlights; it is the same 5W bulb that powers both of them.
The parking lamps intended purpose is to identify the front of the vehicle when it is parked in a dark environment…like on the side of a road at night. Say for example you had to park on the side of a dimly lit two lane road on a very dark night. The front parking lamps allow oncoming traffic to know you are there without blinding (or confusing) them with your headlights on. Its that simple.
Performing a BMW E60 parking lamp/angel eye bulb replacement on your own 5 series is a simple procedure that only takes a few minutes if you have the right tools and a little bit of patience. You will need a long flat head screwdriver and a pair of long nose pliers to remove the parking lamp bulb; unfortunately it is tucked deep within the headlight housing making it difficult to reach with fingers. Since the H7 "flash to pass" bulb needs to be removed to complete this repair, now is a great time to replace it as well.
***Please note that the interior H7 halogen bulb on BMW E60s with the bi-xenon headlight option is not a high beam! It is only used as a "flash to pass bulb" – the xenon bulbs in the outer reflectors serve as both the high and low beam. Please see our article on replacing your BMW E60 xenon bulbs for more information.
Now is a also a great time to upgrade your parking lights/angel eyes to colored or bright white custom versions. Please see our parts list below for a list of great options.
Affiliate link disclosure
– The
BMW Repair Guide uses affiliate links in their site. For more information on affiliate links

, please click here.
1. Parking lamp/angel eye bulb (required) – In 2004-2007 BMW 5 series vehicles with xenon headlights, the parking lamp and angel eye bulb are the same. Be careful using cheap aftermarket or LED custom bulbs that have not been tested with BMW vehicles…they can cause error lights. The following bulbs are all OEM quality and will not cause error lights after being installed.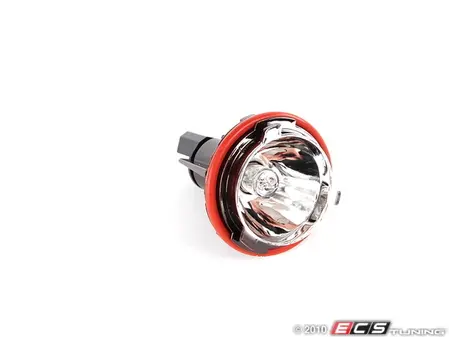 >
BMW E60/E61 with xenon headlight option - production date to 03/2007
This is the same factory bulb that would be installed at the BMW dealership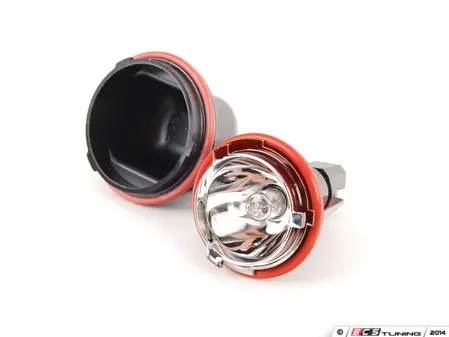 >
BMW E60/E61 with xenon headlight option - production date to 03/2007
For over 100 years, Hella has been manufacturing superior quality electronic components for the automotive industry.
>
Kit includes 2 bulbs. Add a custom modern look to your BMW.
Sometimes a simple change can make all the difference in the appearance of your car. These angel eye bulbs replace the standard dull yellow halogen bulbs and replace them with LED bulbs that are not only 3 times brighter, but have longer life span. Plug and play kit offers the ease OEM fitment with no bulb out warning.
2. Flash to pass bulb (optional) – Since you have to remove the flash to pass bulb during this repair, now is great time to replace it. The following are some great options depending on your budget and whether you would like a custom look when you "flash" another vehicle in front of you.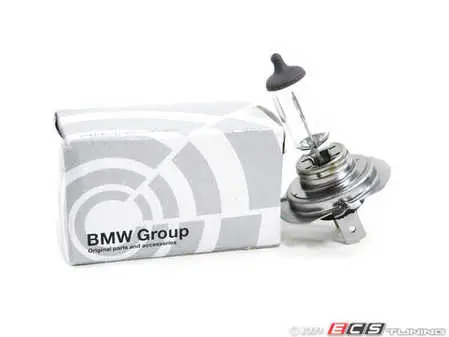 >
This is the same factory H7 halogen headlight bulb that would be installed at the BMW dealership.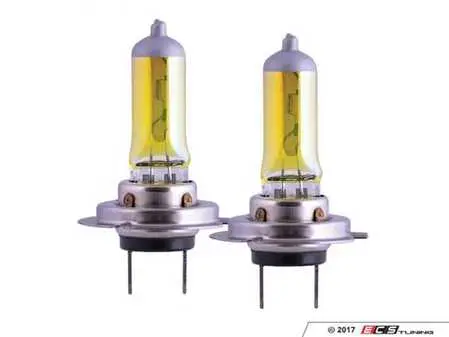 >
One pair
The next evolution in yellow lighting led us to the Solar Yellow line of bulbs. Newly developed Vivid-Coat Technology allows more light to pass through the coating, making these great performing inclement weather halogen bulbs. The color temperature of Solar Yellow makes these a safe options when dealing with snow, sleet, fog, dust, and smoke. If you are looking to enhance the look of your vehicle, or improve the performance of your lights in inclement weather, the Solar Yellow bulbs are the ideal solution.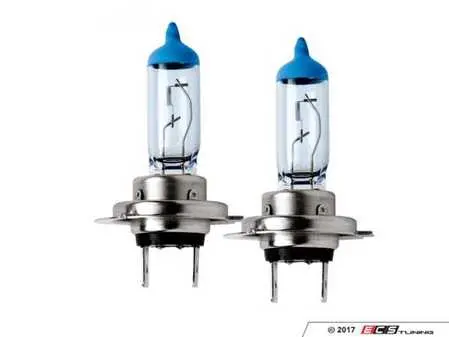 >
One pair
One pair of bulbs. The H7 Xtreme White Plus Series of high output replacement bulbs give drivers better color recognition, depth perception, and improved contrast over stock halogen bulbs, all while meeting DOT specification. Xtreme White Plus bulbs feature a crisp white light output that allows for better road illumination, while a blue top coat adds style to your vehicle with the Xtreme White's 4000k color temperature.
[Tools shortdescription=false description=false toolid='26154,26574′]
Section 1 – Removing and replacing the BMW E60 parking lamp/angel eyes bulb
Removing the BMW E60 parking lamp bulb requires a bit of nimbleness…it is tucked underneath the "flash to pass" bulb in the interior of the headlight assembly. We have always found that the best way to extract it (unless you have very long fingers) is to use a long flat blade screwdriver to turn the bulb until it release from the reflector.
Locate the parking lamp bulb cover on the inside of the headlight assembly.
Turn the parking lamp bulb cover counterclockwise and remove it from the headlight assembly.
Locate the flash to pass bulb socket. Using your fingers, reach down and turn the socket counterclockwise to release it from the headlight reflector.
Pull the flash to pass bulb free from the headlight assembly and lay it gently to the side. Do not touch the bulb with your bare fingers…the oil from your skin can cause it to overheat.
The parking lamp/angle eye bulb is located deep inside the headlight housing near the bottom. Stock factory bulbs are a burnt orange color as shown in the following photo. Please be aware that if your vehicle had an aftermarket bulb previously installed, it may be a different shape and color.
The BMW E60 parking lamp bulb is almost impossible to reach with your fingers. We suggest using a long flat blade screwdriver to turn the bulb counterclockwise until releases from the headlight reflector.
When the bulb releases from the reflector, use a pair of long needle nose pliers to grasp it and extract it from the headlight.
Unplug the back of the parking lamp bulb.
Replace the bulb following the above steps in reverse. BE PATIENT while trying to get the bulb back into the reflector…if you get frustrated take a break! Sometimes it helps to have a helper hold the bulb in place while you turn it clockwise with the flat blade screwdriver. Be sure not to touch the bulb…once again the oil from your skin can cause it to overheat, severely shortening its lifespan.
BMW E60 Parking Lamp/Angel Eye Bulb Replacement Finished
If you have any questions or comments, please feel free to
contact us
. And congratulations for Doing It Yourself!