BMW 645ci Grille Replacement – 30 Minutes
The BMW Repair Guide used this 2005 645ci for the following article.
Repair Summary
The following article gives detailed instructions on replacing the hood grilles in a BMW E63/E64 6 series vehicle. Even though we have used a 2005 645ci convertible to perform this repair, this article can be applied to any 2004-2010 6 series vehicles with minor modifications.
A BMW 645ci grille replacement can add an updated customized look to the font of your 6 series hardtop or convertible.
The first thing you see on a BMW heading towards you on the street are those iconic kidney shaped grilles sculpted into the front of the vehicles. And even though they have slowly transformed in shape and size over the years, the kidney grilles are still part of BMWs iconic front trim.
Current trends in automotive styling have created a noticeable shift from chrome grilles on BMWs to black, high performance carbon fiber and even polished stainless steel versions. A BMW 645ci grille replacement can help update your 2004-2010 6 series car and give it a more modern front appearance. You can also use this article to replace a damaged stock front grille if you want to keep the factory appearance on your 6 series. We give you excellent replacement options in our parts list below.
Affiliate link disclosure
– The
BMW Repair Guide uses affiliate links in their site. For more information on affiliate links

, please click here.
1. Gloss black front replacement grilles (optional) – Update your BMW E63/E64 to a more "modern" look with these high quality gloss black hood grilles.
2. Carbon fiber front replacement grilles (optional) – If you are looking to give your 2004-2010 6 series a series high performance look, then these carbon fiber grilles are the answer. 
3. Polished stainless steel replacement grilles (optional) – Polished stainless grilles have become popular among owners looking to give their 6 series a more high end luxury appearance.
4. Factory chrome replacement grilles (optional) – For the BMW purist just looking to replace a damaged or worn chrome grille, we offer these Genuine BMW replacements.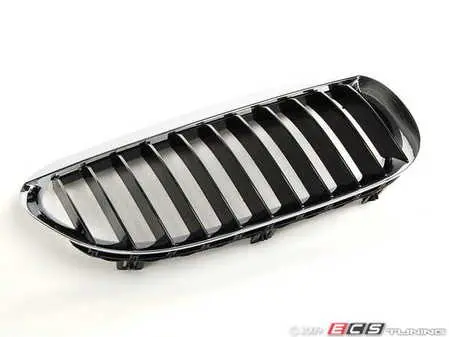 Section 1
Open hood and locate the four torx bolts at top of bumper cover. Remove the four bolts using a T27 torx bit.
Pull the front of the bumper cover away from the car so you can see behind the front grilles. Use the 12″ flat blade screwdriver to release the plastic tabs that anchor the grille to the front bumper cover. Some may be hard to see, but if you pull gently on the the front of the grille you will be able to see where they are.
Grasp front of grille and remove from vehicle.
Install new grille by lining up plastic tabs in bumper cover and gently pressing in until it snaps in place.
Replace torx bolts on bumper cover.
BMW 645ci Grille Replacement Finished
If you have any questions or comments, please feel free to 
contact us
. And congratulations for Doing It Yourself!